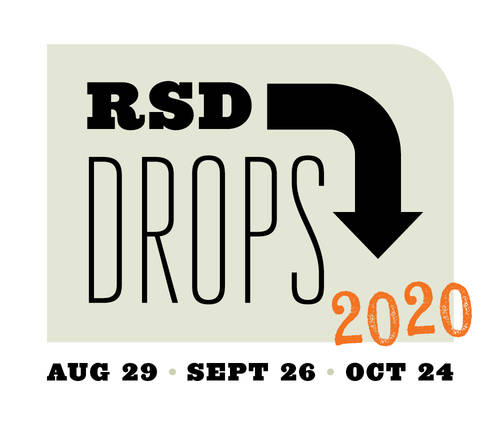 Record Store Day is Socially Distancing this year, and Slackers wants you to come out for not one, but THREE days of great deals and records! We'll have specials and exclusive Record Store Day Vinyl for the three RSD DROPS days, with the second event this October 24th!

Because we want everyone to stay safe and healthy while still getting their sweet RSD vinyl, we'll be doing things a little differently than past RSD events. All of our locations will open at our current regular time of 11:00 AM. We'll need to maintain social distancing for everyone in our stores, so please be courteous and observe any signs and instructions posted or given by our staff. Where needed, we'll ask you to form a line to shop our RSD exclusive records. Customers shopping for other items in the store won't need to queue up, but will NOT be allowed to line-jump and grab items ahead of the people waiting for RSD merchandise. Whenever there is a line, we will also need to limit the number of RSD items per customer per visit so that we can help as many people as possible get what they're shopping for. If you would like to buy additional items after one visit, you are absolutely welcome to go through the line again for another visit. And once the lines have died down, we'll remove the limits on RSD items. Thank you for your patience and understanding. We want everyone to have a great Record Store Drops Day!
RSD DROPS October 24 2020 Special Deals
Buy 1 Get 1 Free on pre-owned CDs and Vinyl Records $5.99 and under*
25% Off All prior RSD Vinyl Releases
* The lesser of the items is free.
RSD DROPS October 24 2020 Exclusive Vinyl**
| ARTIST | TITLE | FORMAT |
| --- | --- | --- |
| Allman Brothers Band, The | An Evening With The Allman Brothers Band: First Set (red/orange swirl) | 2xLP |
| Allman Brothers Band, The | An Evening With The Allman Brothers Band: First Set (Blue/black swirl) | 2xLP |
| Cash, Johnny | Classic Cash: Hall Of Fame Series – Early Mixes (1987) [2 LP] | 2xLP |
| Cheap Trick | Out To Get You! Live 1977 | 2xLP |
| Cooper, Alice | Live from the Apollo(RSD20 EX) | 2xLP |
| Davis, Miles | Double Image: Rare Miles From the Complete Bitches Brew Sessions | 2xLP |
| Infectious Grooves | Take You On A Ride (Ep) (Rex) | 12" EP |
| Judas Priest | Sad Wings Of Destiny | 2xLP |
| London Suede | London Suede (Cvnl) (Ogv) (Rex) (Uk) | LP |
| Rolling Stones, The | Metamorphosis UK (Special Edition) [LP] [Hunter Green] | LP |
| Skid Row | Slave To The Grind (RSD20 EX) | 2xLP |
| Soundtrack | Virgin Suicides (RSD20 EX) | LP |
| Who, The | A Quick Live One | LP |
| Wildbunch, The (Electric Six) | Rock Empire | LP |
| Zappa, Frank | You Can't Do That On Stage Anymore (Sampler) [2 LP] [1 Transparent Red + 1 Transparent Yellow] | 2xLP |
** Vinyl availability will vary by store. These are all the titles we ordered, but we are not able to specify ahead of time which stores will receive which items in what quantities.