This year, May 6th is FREE COMIC BOOK DAY, a day when as they say, "participating comic book specialty shops across North America and around the world give away comic books absolutely free to anyone who comes into their shops." We LOVE celebrating Free Comic Book Day at Slackers, and we want you to come join the fun with us. We'll have special deals and of course, FREE COMICS!
Specials
Buy One Get One Free1 on all 99¢ Comics and Back Issue Comics regularly $9.99 or less
33% Off2 on Loose Action Figures
20% Off2 on New Comic Books, Graphic Novels, Trade Paperbacks, & Manga
10% Off2 on New Action Figures, Busts, & Statues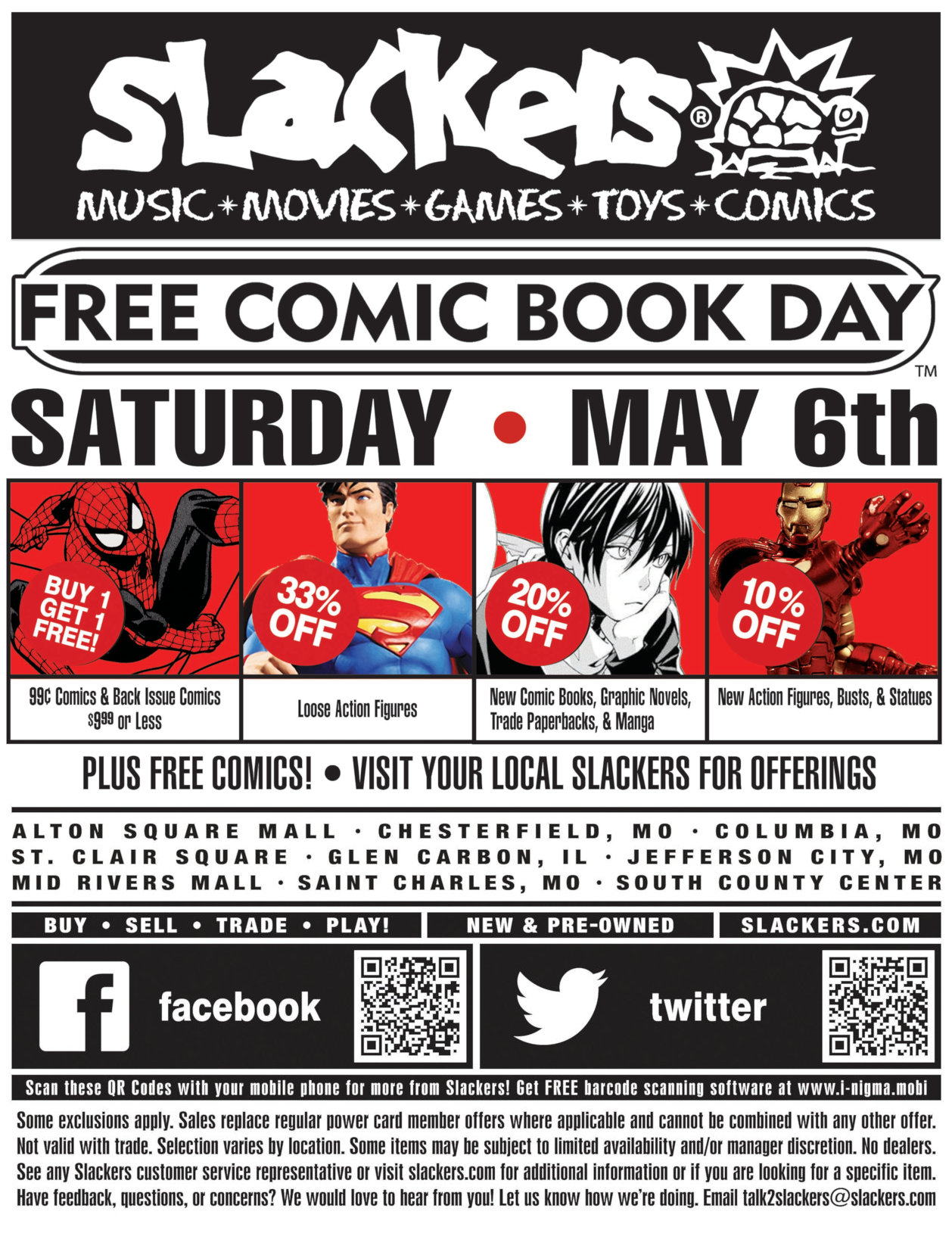 Some exclusions apply. Sales replace regular Power Card Member offers where applicable and cannot be combined with any other offer. Not valid with trade. Selection varies by location. Some items may be subject to limited availability and/or manager discretion. No dealers.
1The lesser of the items is free. 2Subject to manager approval.

Free Comics
OK, OK! We know you want to see what free comics comics we're going to have for you. Well here's the list!*


2023 GOLD COMICS
(Archie Comic Publications) – Archie Horror Presents Cursed Library
(Marvel Comics) – Avengers X-men #1
(Viz Media Llc) – Choujin X & Rooster Fighter
(Titan Comics) – Conan the Barbarian SP
(Graphix) – Dog Man and the League of Misfits
(Image Comics) – Fishflies #1
(Boom! Studios) – Ranger Academy Preview
(Dynamite) – Red Sonja She Devil With a Sword #0
(Seismic) – Seismic Stories
(Marvel Comics) – Spider-man Venom #1
(Idw Publishing) – Star Trek Day of Blood
(Dark Horse) – Umbrella Academy & Witcher
2023 SILVER COMICS
(Rebellion Developments Ltd) – 2000 Ad Presents The Best Comic Ever
(Ablaze Publishing) – Animal Castle
(Viz Media Llc) – Animal Crosing & Kirby Manga Mania
(Graphix) – Baby Sitters Little Sister Karens Haircut
(Lev Gleason – Comic House) – Crimebuster #1
(Fantagraphics Books) – Fabulous Furry Freak Brothers
(Opus Comics) – Frazettaverse #0
(Ten Speed Press) – I Am Stan Sampler
(First Second Books) – Investigators All Tide Up Sneak Peek
(Kodansha Comics) – Kodansha Shaman King Flowers Demon School Sampler
(Arcana Studio) – Kotto Kotorra #1
(Viking Books for Young Readers) – Last Comics on Earth Sampler
(Dynamite) – Madballs Vs Garbage Pail Kids #0
(Marvel Comics) – Marvels Voices #1
(Boom! Studios) – Mech Cadets Special
(Dial Books) – Mexikid Sampler
(Tokyopop) – Nbx Battle for Pumpkin King #1
(Gemstone Publishing) – Overstreet Guide to Collecting
(Action Lab Entertainment) – Princeless
(Oni Press Inc.) – Punch Up! Preview
(Titan Comics) – Runescape Untold Tales God Wars
(Image Comics) – Sacrificers #1
(Valiant Entertainment Llc) – Shadowman Darque Legacy
(Papercutz) – Smurfs #1
(Marvel Comics) – Spidey & Friends #1
(Dark Horse) – Star Wars High Repub Advs & Avatar Last Airbender
(Udon Entertainment Inc) – Street Fighter 6 #0
(Random House Graphic) – Sweet Valley Twins Teachers Pet Sampler
(Idw Publishing) – Teenage Mutant Ninja Turtles
(American Mythology Productions) – Tom Hollands Fright Night #1 Fcbd Edition
(Vault Comics) – West of Sundown #1
* Availability will vary by location. Not all locations will have all titles.