This year, May 7th is FREE COMIC BOOK DAY, a day when as they say, "participating comic book specialty shops across North America and around the world give away comic books absolutely free to anyone who comes into their shops." We LOVE celebrating Free Comic Book Day at Slackers, and we want you to come join the fun with us. We'll have special deals and of course, FREE COMICS!
Specials
Buy One Get One Free1 on all 99¢ Comics and Back Issue Comics regularly $9.99 or less
Buy Two Get One Free1 on Loose Action Figures
20% Off2 on New Comic Books, Graphic Novels, Trade Paperbacks, & Manga
10% Off2 on New Action Figures, Busts, & Statues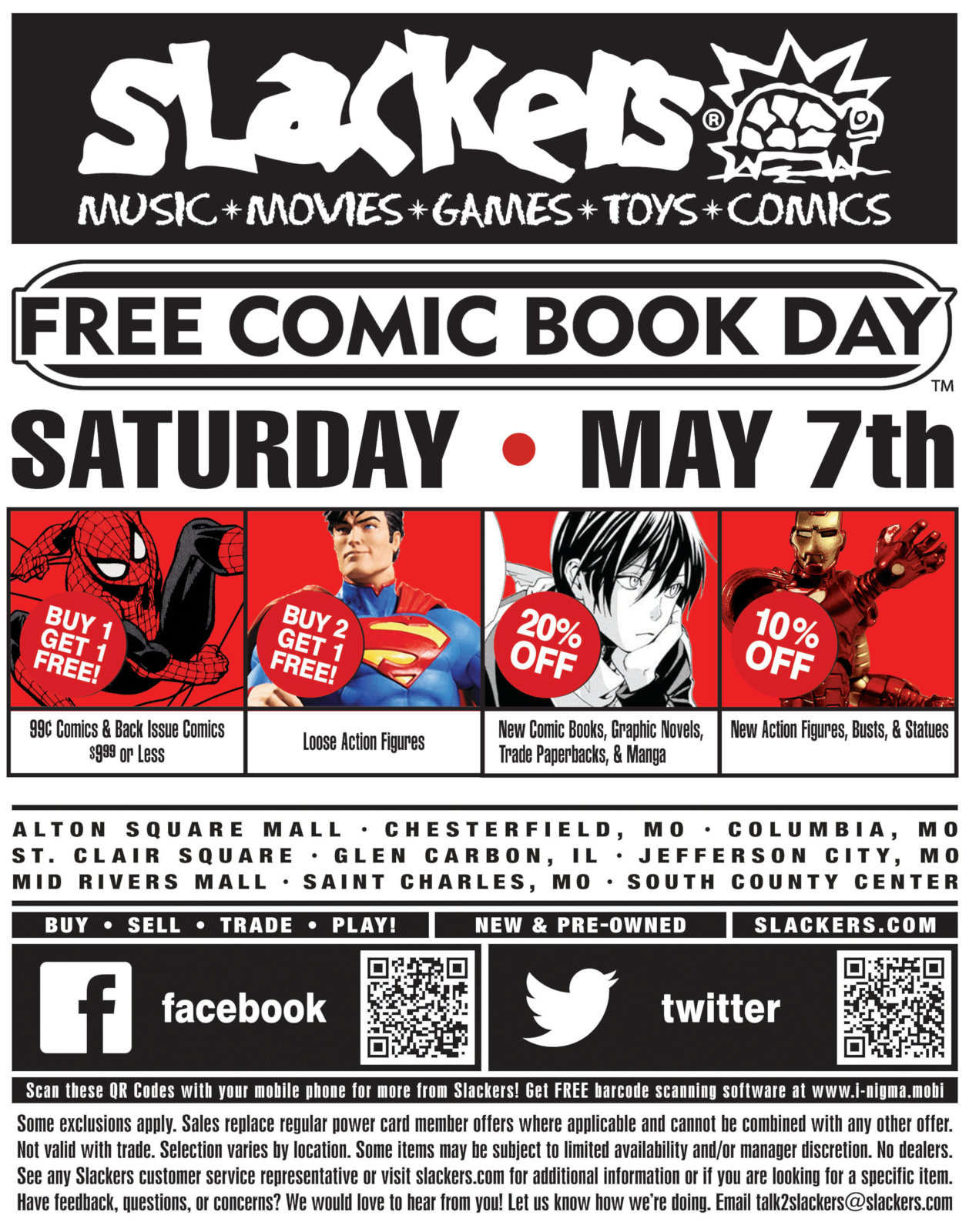 Some exclusions apply. Sales replace regular Power Card Member offers where applicable and cannot be combined with any other offer. Not valid with trade. Selection varies by location. Some items may be subject to limited availability and/or manager discretion. No dealers.
1The lesser of the items is free. 2Subject to manager approval.

Free Comics
OK, OK! We know you want to see what free comics comics we're going to have for you. Well here's the list!*


2022 GOLD COMICS
(Boom Entertainment) – 25 Years of Buffy the Vampire Slayer Special
(Archie Comic Publications) – Best Archie Comic Ever #0
(Image Comics Buy-sell) – Bone Orchard Mythos Prelude (MR)
(Graphix) – Dav Pilkey Sampler Featuring Dog Man
(Titan Comics) – Doctor Who #1
(Viz Llc) – Kaiju No 8 & Sakamoto Days
(Awa) – Primos #1 (of 4) (Net)
(Marvel Comics) – Spider-man Venom #1
(Dark Horse – Buy Sell) – Stranger Things Resident Alien
(Idw Publishing) – Teenage Mutant Ninja Turtles (Net)
(Kodansha Comics) – Wandance & Blackguard Sampler
2022 SILVER COMICS
(10 Ton Press) – 10 Ton Press Presents 10 Ton Tales
(Dark Horse – Buy Sell) – Avatar Last Airbender Legend of Korra
(Marvel Comics) – Avengers X-men #1 (Net)
(Vault Comics) – Barbaric #1 (Net) (MR)
(Rebellion / 2000ad) – Best of 2000 Ad Issue Zero
(Titan Comics) – Bloodborne #1 (Net) (MR)
(Aftershock Comics) – Bunny Mask Tales
(Red 5 Comics) – Carriers-beorn-dragon Whisperer
(Image Comics Buy-sell) – Clementine #1
(Fantagraphics Books) – Disney Masters Donald Duck & Co Special
(Scout Comics) – Electric Black Children of Caine #0
(Yen Press) – Enemies by Svetlana Chmakova
(Lev Gleason – Comic House) – Equilibrium
(Papercutz) – Fuzzy Baseball Triple Play
(Boom Entertainment) – Hollow #1 Special
(Humanoids Inc) – Incal Universe
(Ten Speed Press) – It Wont Always Be Like This Sampler (MR)
(Oni Press Inc.) – Jonna and the Unpossible Monsters
(Behemoth Comics) – Kult Cable #1 Feat Jack Black (MR)
(Marvel Comics) – Marvels Voices #1
(Random House Childrens Books) – Max Meow Cat on Street Comics Spectacular
(Penguin Young Readers) – Neverlanders Preview
(Mad Cave Studios) – Nottingham Special (MR)
(Gemstone Publishing) – Overstreet Guide to Collecting
(Viz Llc) – Pokemon Journeys Pokemon Adventures XY
(Graphix) – Realm of Blue Mist Rema Chronicles
(Dynamite) – Red Sonja Marvel Feature Stories
(Idw Publishing) – Sonic the Hedgehog
(Udon Entertainment Inc) – Street Fighter Masters Blanka #1
(Epicenter Comics) – Tex in Land of the Seminoles
(Tokyopop) – The Guardian of Fukushima
(American Mythology Productions) – Three Stooges Celebration #1
(Ablaze) – Trese (MR)
(Source Point Press) – Winchester Mystery House Hundred Year Curse
(Valiant Entertainment Llc) – Year of Valiant 2022 FCBD SP
* Availability will vary by location. Not all locations will have all titles.