This year, FREE COMIC BOOK DAY is May 4th! In their own words, FCBD is "a single day when participating comic book specialty shops across North America and around the world give away comic books absolutely free to anyone who comes into their shops." We LOVE Free Comic Book Day at Slackers, and we want you to come join in the celebration with us. We'll have special deals and of course, FREE COMICS!
Specials
Buy One Get One Free* on all Back Issue Comics regularly $9.99 or less
Buy One Get One Free* on all Manga and 99¢ Comics
Buy Two Get One Free* on Loose Action Figures
20% Off** on New Comic Books, Graphic Novels, Trade Paperbacks, & Comic Supplies
20% Off** on New Action Figures, Busts, Statues, Posters, & T-Shirts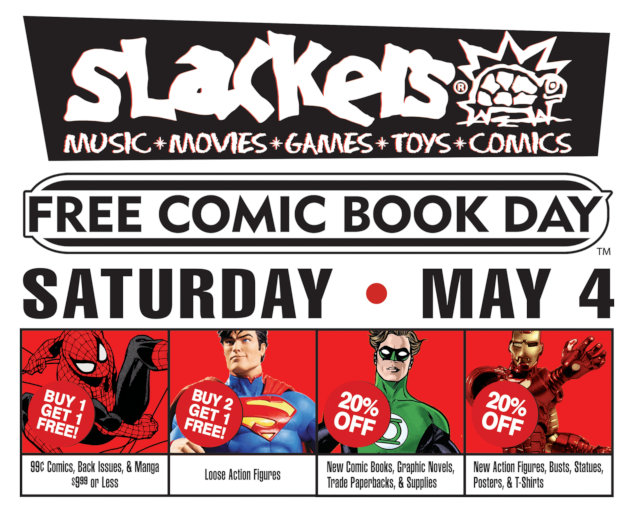 Some exclusions apply. Sales replace regular Power Card Member offers where applicable and cannot be combined with any other offer. Not valid with trade. Selection varies by location. Some items may be subject to limited availability and/or manager discretion. No dealers.
*The lesser of the items is free. **Subject to manager approval.



Free Comics
OK, OK! We know you want to see what free comics comics we're going to have for you. Well here's the list!*
2019 GOLD COMICS
(Titan Comics) – 13th Doctor
(Marvel Comics) – Avengers
(Valiant Entertainment LLC) – Bloodshot Special
(Dark Horse) – Dark Horse Stranger Things & Black Hammer (Net)
(Image Comics) – Deadly Class Killer Set (One-shot) (Mr)
(Tokyopop) – Disney Descendants Dizzy New Fortune
(Vault Comics) – Interceptor #1 (Mr)
(Viz Media LLC) – Pokemon I Chose You & Pokemon Adventures
(Archie Comic Publications) – Riverdale Season 3 Special
(Idw Publishing) – Tmnt Casualty of War
(DC) – Under the Moon a Catwoman Tale Special Edition
(Boom! Studios) – Welcome to Whedonverse
2019 SILVER COMICS
(Lion Forge) – A Sheets Story
(Aftershock Comics) – Animosity Tales
(Golden Apple Books) – Blastosaurus Annual #1
(Dynamic Entertainment) – Bobs Burgers
(Chapterhouse Publishing, Inc) – Captain Canuck Equilibrium Shift #1 (Net)
(American Mythology Productions) – Caspers Spookville
(Graphic Pop) – Cristiano Ronaldo Striker Force 7 FCBD Special
(Red 5 Comics) – Dark Age Afterburn One Shot
(DC) – Dear Justice League Special Edition (Net)
(Ahoy Comics) – Dragonfly and Dragonflyman
(Oni Press Inc.) – Ghost Hog #1
(Papercutz) – Gillbert FCBD Ed
(Arcana Studio) – Go Fish
(Albatross Funnybooks) – Grumble vs The Goon
(Humanoids Inc) – H1 Ignition #1
(Source Point Press) – Hope #1 (Mr)
(Vertical Comics) – Kinos Journey Beautiful World Sampler
(Kodansha Comics) – Kodansha Comics All Ages Sampler
(Benitez Productions) – Lady Mechanika
(Drawn & Quarterly) – Little Lulu Worlds Best Comic Book
(Random House Books Young Reade) – Lucy & Andy Neanderthal Big & Bolder
(Boom! Studios) – Lumber
(Youneek Studios) – Malika – Fire & Frost
(Dark Horse Comics) – Minecraft & Incredibles 2 Ed
(Fantagraphics Books) – My Favorite Thing Is Monsters (Mr)
(Viz Media LLC) – My Hero Academia & Promised Neverland
(Antarctic Press) – Punchline #1 FCBD Ed
(Titan Comics) – Robotech
(Scout Comics) – Scout Comics Presents Midnight Sky
(Image Comics) – Spawn #1
(Marvel Comics) – Spider-man
(Idw Publishing) – Star Wars Adventures Droid Hunters
(Starburns Industries Press) – Starburns Presents
(Udon Entertainment Inc) – Street Fighter Sakura vs Karin
(New England Comics) – The Tick
(Rebellion / 2000AD) – Treasury of British Comics Presents Funny Pages
(Dynamic Entertainment) – Vampirella 50th Anniversary
(Graphix) – Wolfie Monster & Big Bad Pizza Battle
(Epicenter Comics) – Zagor the Alien Saga
* Availability will vary by location. Not all locations will have all titles.