We have a BUNCH of Day After Thanksgiving Specials for you! 1

And if you're out and about Thanksgiving night, you can also enjoy these special deals at our Jefferson City, Chesterfield, and Alton locations! Scroll down or click here for full store hours!
$200 OFF on Any Multicade Arcade Cabinet!
Get a Free $10 Gift Certificate with the purchase of any New OR Pre-Owned Game Console! (limit one per person per visit)
Buy 2 Get 1 FREE on all Pre-Owned CD, DVD, Blu-ray, & Vinyl Records! 2
$5 Off on all Fleece Blankets!
50% Off on all Anime Prints!
50% Off on all Licensed Ink Pens!
Buy 2 Get 1 FREE on all Magic: The Gathering loose single cards! 2
$1.99 Select Bargain Bin Pre-Owned CDs & DVDs!
Buy 1 Get 1 FREE on Pokémon Miniatures!2 Great Stocking Stuffers! Regularly $2.99!
Buy 1 Get 1 FREE on All Back Issue Comics, Graphic Novels, & Manga regularly $9.99 or Less! 2
50% Off on all Christmas Music!
33% Off on all Loose Action Figures and Playsets!
Buy 1 Get 1 FREE on all Skylanders, Artifacts, Disney Infinity Figures, & Power Discs! 2
50% Off on All New & Used Skylanders / Disney Infinity Starter Packs!
All regular VHS $1.00 each or FOUR for $1.00! All Disney VHS $2.00!
Limited Edition Record Store Day Vinyl Records!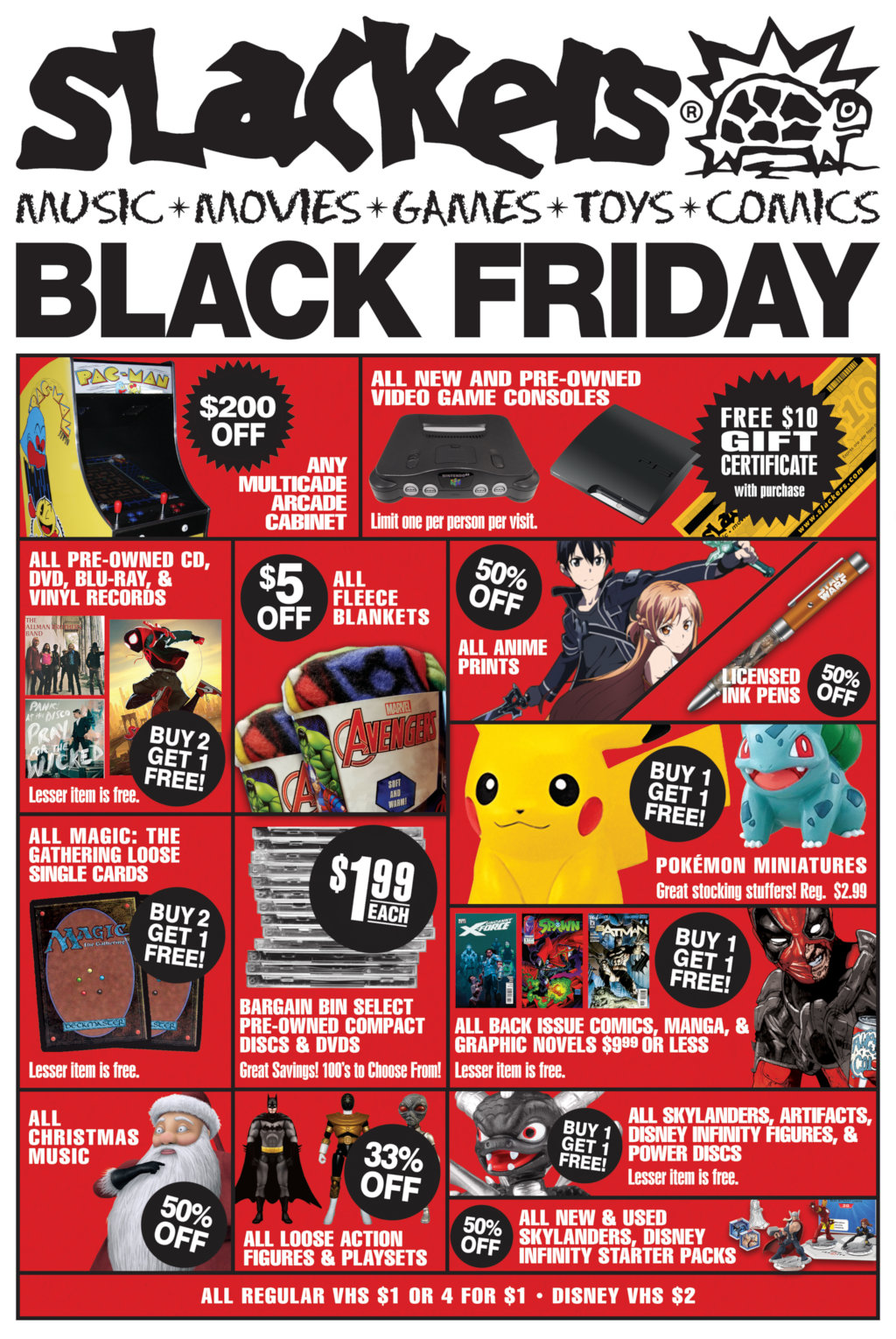 1 – Offers valid Friday November 28th, 2019 only, except at locations noted. Some exclusions apply. Sales cannot be combined with any other offer. Not valid with trade. Selection varies by location and some items may be subject to limited availability or manager discretion. No dealers. See any Slackers customer service representative for additional information or if you are looking for a specific item.
2 – Lesser item is free.
STORE HOURS
Illinois

Alton (Alton Square Mall)
Thursday: 6:00 PM- 12:00 AM
Friday: 7:00 AM – 10:00 PM
Fairview Heights
Thursday: Closed
Friday: 9:00 AM – 9:00 PM
Glen Carbon
Thursday: Closed
Friday: 9:00 AM – 9:00 PM
Missouri

Chesterfield (St. Louis Premium Outlets)
Thursday: 6:00 PM – Midnight
Friday: Midnight – 9:00 PM
Columbia (Downtown)
Thursday: Closed
Friday: 9:00 AM – 9:00 PM
Jefferson City (Capital Mall)
Thursday 6:00 PM – Midnight
Friday: 6:00 AM – 9:00 PM
Mid Rivers Mall
Thursday: Closed
Friday: 6:00 AM – 10:00 PM
St. Charles
Thursday: Closed
Friday: 9:00 AM – 9:00 PM
South County Mall
Thursday: Closed
Friday: 6:00 AM – 10:00 PM